mephistopheles
This is a page all about Miki and the things I do and make.
I AM A SELF EMPLOYED DESIGNER, CURTAIN MAKER, COSTUME MAKER, POET AND ARTIST. STAR WARS AND FILM COSTUMES [especially JEDI]
I make film accurate costumes approved by Star Wars fan people
For more details and photos go to
Miki's Work Page

If you want to contact me e-mail me here;
MY COSTUMES HAVE WON TOP AWARDS AT THE WORLDCONVENTIONS IN GLASGOW 2005, JAPAN 2007 AND lONDON 2014!
Go to 'Worldcon Costumes'
for details!
Assorted Artwork,
click on the thumbnails to see the whole image!


Puck


Butterfly


Fairy Queen


Xmas Queen


Angel


African Queen


Knightmare


Lilith


Ball Gown
........And this is Pip my dog wearing the most embarrassing outfit that I made for him for Christmas! Mother wouldn't take him out in it so I had to!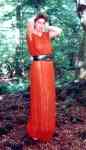 Kia Hesa


Viscountess
I use the historical costumes in a medieval society called the Far Isles where l play two different people. If you want to know more about our society click here to go to the FAR ISLES web site. If you would like to know more about my characters, the macabre Kia Hesa and the infamous Princess [ex Viscountess] Coneybury go to: Miki's Medieval Page
I also write poetry and songs with fantasy themes and perform them with other 'filkers'.
If you want to know what 'Filk' is, or to read some of my stuff, click the picture....
Miki's Filk Page

...or to contact the filkers - check out Rafe's definitive filk site:

www.filk.co.uk/


Minoan Goddess
'Servalan' I was trained in theatre costume making at Croydon college and now make costumes for other people and for myself. I make historical, ethnic and fantasy costumes and if you want to know more and see some of the photos check out this page:
Miki's Costume Page

And if you want any curtains, costumes or other sewing work done check out
Miki's Work Page